New fund will help students pursue journalistic endeavors
The Journalism Department has established a new fund to help students realize their journalistic dreams.
The Student Professional Development Fund will provide funding for enterprising students who want to travel to cover a story, attend a professional meeting or training opportunity, or purchase documents or equipment needed to pursue a journalistic project.
"Our students often have ideas for projects they want to take on but don't have the funds to carry them out," said Rachele Kanigel, chair of the Journalism Department. "We're hoping this fund can be used to finance a trip to cover a major breaking story, to attend a journalism convention, or to help with an investigative project."
Students can apply for up to $500.
Proposals will be accepted on a rolling basis and considered as funding allows.
"Particularly when it comes to covering breaking news, students often can't plan far in advance," Kanigel said. "We want funding to be available for spur-of-the-moment opportunities like covering a wildfire in another part of the state, traveling to the state capital for a major political event or going to Long Beach to report on a hot issue at the California State University Board of Directors meeting."
Donors can contribute to the fund by filling out this online donation form and writing "Student Professional Development Fund" in the comment section.
To apply for funding, students should write a letter to the chair explaining the project and provide a budget detailing how the funds would be used. Proposals will be evaluated by a faculty committee.
The Journalism Department has three other funds donors can contribute to.
The Hollis Family Fund provides stipends for the hard-working editors of Golden Gate Xpress newspaper and Xpress magazine. The fund was started by Robert Hollis, a former editor of The Golden Gater, the previous name of the student newspaper.
The Fran Ortiz Photojournalism Fund provides grants of up to $5,000 for photojournalism students to produce significant journalistic projects that shed light on marginalized populations. Fran Ortiz was the first faculty member to teach a photojournalism course in the Department of Journalism.
The Raul Ramirez Diversity in Journalism Fund is named for the late executive director of news and public affairs at KQED Public Radio, who taught journalism at SF State for many years. The fund supports an annual award to honor a journalism student whose work exemplifies the importance of diversity in journalistic endeavors.
The Journalism Department also accepts estate and planned gifts. For any questions or if you need assistance making a gift please contact Bonnie Feinberg, senior director of development at bfeinberg@sfsu.edu (415) 338-6363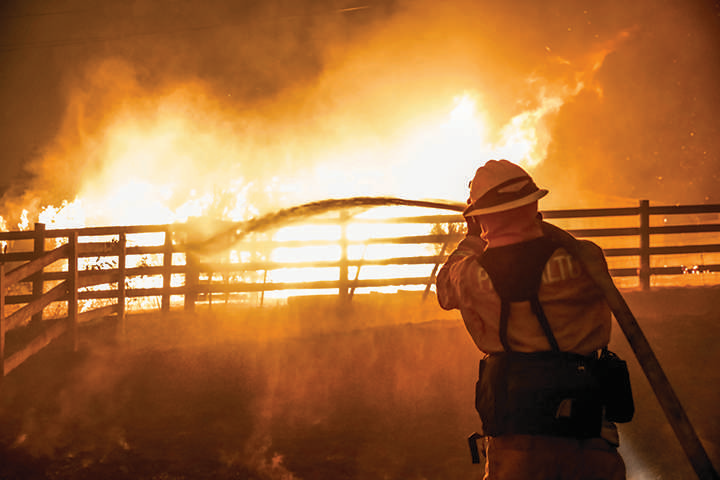 A new fund will provide enterprising student journalists money to cover travel and other expenses for journalistic projects. Will Wendelman, a photojournalism major, covered the devastating Kincade Fire in Sonoma County in October 2019.
Photo by Will Wendelman/Golden Gate Xpress