The Department of Journalism at San Francisco State University was founded in 1960. We are housed in the College of Liberal & Creative Arts and have a long tradition in language arts, literature, liberal arts and the humanities. We place emphasis on strong research, writing and critical-thinking skills. We are particularly steeped in the traditions of journalism as an agent of social change and a bulwark for a healthy democracy.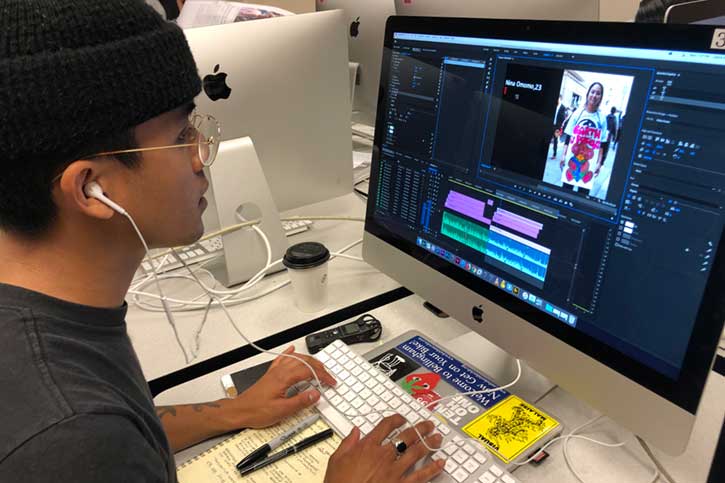 Mapping Your Future as a Journalist
It is a very exciting time to be a journalist. But to be successful during such a transformative time, you need a really good plan. You can't rely on something happening when you walk across the stage with your diploma. You have to be the agent of your own success. So think about these questions: What are your professional goals? How will you get there? We can offer you two pieces of advice will take you very far on this path.
Internships
Make sure to get two internships under your belt by the time you graduate from the program. You can get credit for internships through two avenues. The first is JOUR 699: Directed Study in Journalism credit. You can receive up to three credit units, but these credits will not go toward your major requirements. There is no prerequisite for this class. The internship must involve some journalism, such as writing, producing multimedia, managing social media, making photos, or fact checking. Getting coffee for the boss does not count. We want this experience to be meaningful and purposeful, an experience that brings you closer to your career goal.
The second avenue for internship credit is JOUR 617: Journalism Internship. This internship should be a notch or two above what you did in JOUR 699. To enroll in this three-unit course, you must have completed one semester of JOUR 609: Publication Lab, with a C or better. Yumi Wilson is the one who usually advises this class. She is a great resource for finding an internship that fits your goals.
View the course descriptions on the SF State bulletin for additional information.
Mentoring Program
Having a mentor or coach in the same profession is essential when learning how to navigate the ins and outs of getting your work out there. We have a volunteer mentoring program we encourage you to participate in. We have a great resource of names and contacts we can use to find the perfect match for you. Joanne Derbort, one of our lecturers, coordinates our mentoring program. A Pulitzer Prize-winning journalist with experience working for magazines, newspapers and websites, she organizes events and networking opportunities to help students jumpstart their careers. You can find her in HUM 307, most Mondays and Wednesdays from 10 a.m. to 2 p.m.
What's Different About Journalism at SF State?
There are so many reasons to choose the SF State journalism program. Watch this video to find out what we have to offer.
Journalisms of the Future
A roundtable discussion explores how newsrooms use new technology, if tech will replace print publications, if virtual reality and augmented reality create empathy, definitions of fake news, how technology improves accessibility and how to get a technology job in journalism.