Two SF State photojournalism majors receive $3,000 grants
Amaya Edwards' project focuses on Black birth justice.
From her proposal:
"Black lives matter as they are being brought into the world; they shouldn't only matter when a hashtag is trending. Black birth justice and maternal health are foundational in making this phrase mean what it says. My goal is to promote further awareness about what Black birthing people are actually experiencing in relation to the healthcare system and medical professionals. I also want to promote the work of community-based doulas and Black birth workers fighting against institutionalized racism."
Harika Maddala's project focuses on the aftermath of police-involved violence.
From her proposal:
"I'm looking at the collective experiences of the loved ones of those who died in police shootings in the Bay Area- their path to fight for justice, the outcomes thus far, how the incident has affected their mental health, and the impact that more news about police shootings have on them. Words sure describe these incidents and the aftermath just as they have in all the articles published to date. But nothing would describe their emotions and experiences the way photographs and their own voices would. I'm working on compiling these stories of experiences into one place – a digital space with chapters of photographs and audio stories of these families, which would not only show the scale of the incidents in the Bay Area but also continue to serve as a reminder of officer-involved violence in the heart of the fifth-largest economy in the world."
The grant is named for San Francisco Examiner photojournalist Fran Ortiz, a friend, and mentor to generations of Bay Area photojournalists and San Francisco State's first photojournalism teacher. A film about Ortiz is available at the John Gorman Archives.
The Fran Ortiz Photojournalism Grant was created in 2018 by Reuters photojournalist and editor Gary Cameron in partnership with the SFSU photojournalism sequence. Cameron was one of Fran Ortiz's students and SFSU's first photojournalism graduate.
"I'm particularly proud that the two winning entries of Fran's Grant for this year are so timely and needed in the current state of affairs in the United States, Cameron said. "As we moved forward with Fran's Grant, we too are learning each year regarding the projects submitted, but equally important, the needs of the student to fulfill that project. Congratulations to both Amaya and Harkin; take your projects to the best possible conclusion, grow within yourselves, and be part of a great photographer's legacy."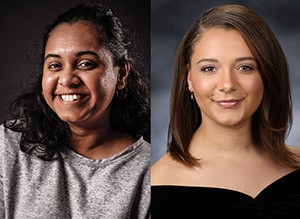 The Journalism Department has awarded $3,000 Fran Ortiz Photojournalism project grants to photojournalism senior Harika Maddala and photojournalism junior Amaya Edwards.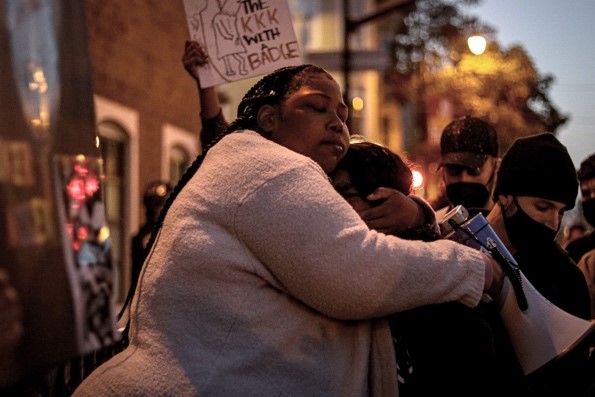 (Above) Talika Fletcher, sister of Roger Allen, consoles Tashi, 19, during a vigil and march held in honor of Roger Allen and Daunte Wright, in San Francisco, on April 15, 2021. Allen was shot and killed by Daly City Police on April 7. Photo by Harika Maddala. Copyright @2021by Harika Maddala.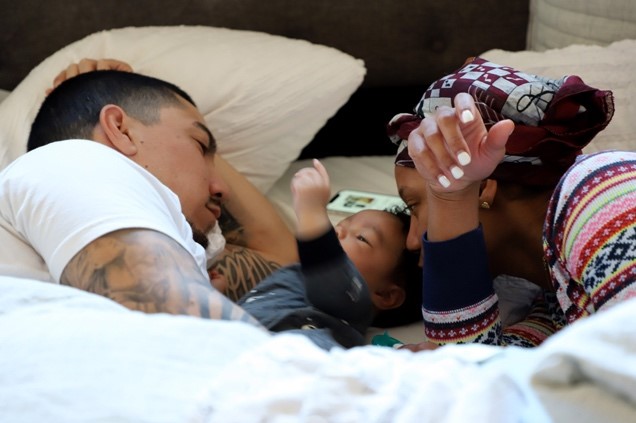 (Above) Jade, 33 and Ricky Ramos, 33, go through their usual routine of spending the day at home taking care of baby Kayson, who is four months old, on Sunday, February 28, 2021. Photo by Amaya Edwards. © Copyright 2021/Amaya Edwards