SF State student places ninth place in Hearst photo picture story/series
Eloise Kelsey, a photojournalism major, won 9th place in the Photo Picture Story/Series Competition of the 2020-2021 Hearst Journalism Awards Program.
Kelsey's photo essay, "Womanhood" captures her personal experience of what it is like to be a 21-year-old woman living with three roommates in a San Francisco apartment during the pandemic. She said that the images represent "the good, the bad and the ugly" of what a home of young women looks like.
"I wanted to do something really personal and COVID-related," said Kelsey. "I didn't feel as comfortable shooting strangers or being outside so I made this project to keep myself busy."
Kelsey said that when she was submitting her project she did not think it would be what the judges were looking for based on what she had seen in the work of past winners of the award. She encourages all students who are pondering whether or not to submit their work to go for it.
Here's the full list of students who placed in the competition:
Hearst Photo Picture Story/Series
1. Angelica Edwards, University of North Carolina at Chapel Hill
2. Michael Blackshire, Western Kentucky University
3. Sam Mallon, Western Kentucky University
4. Austin Johnson, University of Oregon
5. Isaac Ritchey, Central Michigan University
6. Leslie Ostronic, Ohio University
7. Rebecca Slezak, Ball State University
8. Julia Nikhinson, University of Maryland
9. Eloise Kelsey, San Francisco State University
10. Laura Bilson, Ohio University
The Hearst Journalism Awards Program supports and assists journalism education at the collegiate level. The program awards scholarships to students with outstanding performance in writing, photojournalism, audio, television, and multimedia competitions. To enter any competition hosted by the Hearst Awards, students must be involved in campus media and must have published articles, photographs, or newscasts that can be submitted.
The William Randolph Hearst Foundation was established by its namesake, publisher William Randolph Hearst, in 1948.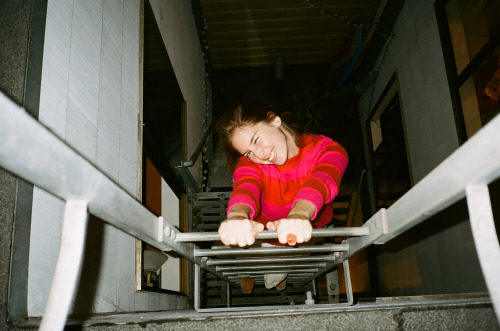 Photojournalism major Eloise Kelsey documented the pandemic from the San Francisco apartment she shares with her three roommates.
Photo by Camille Cohen