SF State Alumnus becomes New York Times Fellow
After applying three times, SF State alumnus Sarahbeth Maney was selected for a prestigious photojournalism fellowship with The New York TImes.
"When I found out that I was going to be a fellow, I was just overwhelmed with excitement," said Maney, a 2019 graduate of the SF State Journalism Department who will work out of the Times' Washington, D.C. bureau beginning in June. "The first thing I did was call my mom and tell her."
During her yearlong fellowship, Maney will live in Washington, D.C., and cover politics. She will photograph news from Capitol Hill and the White House and will be part of the pool of journalists who get to travel with President Joe Biden and Vice President Kamala Harris.
The competitive yearlong fellowship caps a career of impressive internships and freelance assignments.
In 2017, during her junior year as a photojournalism major, the Bay area native interned for the San Francisco Examiner, where she met then photo editor and SF State alum Jessica Christian. Christian eventually took a job as a staff photographer at the San Francisco Chronicle, where she put a good word for Maney. In 2018, Maney began to freelance for the Chronicle as she continued her studies at SF State.
"[Jessica] really showed me the ropes and was a great mentor to me," Maney said.
After graduating in 2019, Maney took an internship in Flint, Michigan, with The Flint Journal, where she documented the COVID-19 epidemic and the presidential campaign. After returning to the Bay Area, Maney landed a summer internship at the San Francisco Chronicle.
"I kinda went backwards as some people would say because I had consistent freelance work, but decided to take a break and do internships for more newsroom experience," Maney said.
In 2020, Maney won a $2,500 Eyewitness Photojournalism Grant from Diversify Photo and the Pulitzer Center to photograph the challenges of bringing a child into the world during the pandemic. She published the photo essay "Reclaiming her space: Birthing through a pandemic," in the San Francisco Chronicle in March.
After her internships, Maney decided to apply for The New York Times photo fellowship for the third time. Each time that she applied and didn't land the position, it made her more determined to get it.
"I was able to take time and reflect on my portfolio and think about what is it that I could add to this that would get me a better chance," Maney said.
Reflecting back on her photojournalism studies at SF State, Maney says the program taught her more than just how to take great photos.
"It was learning to discover my own voice," she said. "I think that was the most important thing during my time in the program."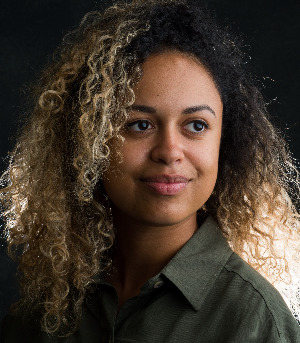 Sarahbeth Maney will document politics in Washington, D.C. as a fellow for The New York Times.
Photo courtesy of Sarahbeth Maney