Professor Jon Funabiki retires from Journalism Department
Professor Jon Funabiki, who championed social justice journalism and diversity in media during a five-decade career as a journalist, philanthropy professional, professor, and leader of two non-profit journalism organizations, has retired from the university.
Funabiki, who retired in December, was a gentle, contemplative professor who urged students to think deeply about issues of inequity and to consider what they could do as journalists to shine a light on injustice.
"Jon has devoted his life to social justice journalism and giving voice to the voiceless," said Professor Rachele Kanigel, chair of the Journalism Department. "Throughout his career, he has found ways to tell important stories and to support journalism that exposes inequity and empowers people."
A 1972 graduate of San Francisco State University's Journalism Department who served as editor of the student newspaper, The Phoenix, Funabiki went on to have a distinguished career as a reporter and editor for The San Diego Union, where he specialized in covering U.S.-Asia political and economic affairs, sometimes reporting from East and Southeast Asia.
"I was covering China during the throes of pro-democracy protests which were also happening in Taiwan and Korea," he said. "When you have a million people on the streets protesting, sacrificing their lives, you start to realize that history is taking place right in front of your eyes. It's your responsibility to do your best job while protecting the people who are fighting these repressive governments."
In 1976, Funabiki reported on President Gerald Ford's decision to rescind and apologize for Executive Order 9066, the federal directive that sent Japanese American families to concentration camps during World War II. The story had a deep personal resonance for him; his parents were imprisoned at the Heart Mountain internment camp in Wyoming and his older brother was born there. On Feb. 26, 2021, the 45th anniversary of the termination of the order, The San Diego Union-Tribune reprinted the story Funabiki co-wrote with fellow Japanese-American reporter Mitch Himaka.
Funabiki also wrote for The New York Times, the San Francisco Chronicle, National Civic League Journal, and other publications.
He first joined the Journalism Department faculty in 1990 when he became the founding director of the Center for Integration and Improvement of Journalism, the nation's first university-based center focused on news media coverage of ethnic minority communities and issues. The center developed programs and conducted research aimed at recruiting, retaining, and revitalizing journalists and journalism educators with the goal of "making journalism more inclusive from the classroom to the newsroom."
Associate Professor Cristina Azocar, Ph.D., was a student of Funabiki's in the early 1990s and later become director of CIIJ, a position she held for 10 years before becoming chair of the journalism department.
"I was first introduced to the problems of coverage of people of color as a journalism student at San Francisco State University when I took Jon Funabiki's Ethnic Diversity and Journalism class," said Azocar, now a leading scholar in the field of diversity and journalism. "But more importantly, he showed me how I could help change the coverage. He invited me to attend meetings with him when I was a student and I got to know the leaders in diversity at a time when news leaders were just starting to take it seriously."
After five years at CIIJ, he left to become deputy director of the Ford Foundation's Media, Arts and Culture division, where he led grant programs to promote ethics, credibility and diversity in journalism; social justice journalism; and the ethnic and independent news media.
In 2006 he returned to SFSU as a professor, and in 2009 he established Renaissance Journalism, a nonprofit organization that supports journalists and news organizations to find new ways to tell stories that serve and empower communities and illuminate inequity.
Under his leadership, Renaissance Journalism sponsored national fellowships, collaborative reporting projects, grants, and training. Hundreds of journalists participated in Renaissance projects and many went on to produce innovative and award-winning coverage on such issues as housing insecurity and affordability, systemic inequities in public education, the financial crisis in Detroit, the toxic legacy of Agent Orange in Vietnam, and, most recently, the Covid-19 pandemic and its disproportionate impact on communities of color.
While at SF State, Funabiki also served stints as director of the Lab for Media and Community and the Dilena Takeyama Center for the Study of Japan and Japanese Culture.
Funabiki shared his passion for community journalism and social justice reporting in the classroom, where he taught Cultural Diversity and News Media and Social Impact of Journalism. He was particularly known for his Community Media course (originally called Ethnic News Service), in which students would cover San Francisco's Mission District and Latino communities and get the chance to publish their work in El Tecolote, a bilingual (Spanish-English) newspaper. Alexis Terrazas, a former student, is the current editor.
"Jon changed the course of my life," Terrazas said in an email. "When I was a student at SF State, I had ambitions of working in mainstream newsrooms. But it wasn't until I took Jon's Ethnic News Service pilot class where I was introduced to community media and recognized its value. It is because of Jon that I am where I am today."
Terrazas noted that the first story he wrote for El Tecolote was through that class in the Spring of 2009. "In my role as editor, I have collaborated with Jon with that very same class. He's a champion. I am forever grateful to have met him those many years ago and I wish him well deserved rest."
In 2014, Funabiki and faculty colleague Sachi Cunningham led a team of students and professionals on a reporting trip to Fukushima, Japan, to report on how displaced residents were recovering in the aftermath of the earthquake, tsunami, and nuclear power plant disaster that struck northeastern Japan in 2011. The San Francisco State University students produced a multimedia journalism project chronicling the lives of Fukushima residents after the disaster.
In addition to his teaching, Funabiki is known for his automatic email replies, which apologize for his not being able to respond right away and then offer a long list of miniature book reviews. For each book, he tells a little story of how the book came to him or what he took away from it. A voracious reader, Funabiki shares insights on books that run the gamut from poetry and novels to history and Buddhist thought.
Throughout his career, Funabiki has won accolades from his peers.
In February, the Society of Professional Journalists Northern California Chapter announced plans to honor Funabiki with the Distinguished Service to Journalism Award for "his dedication to collaboration, diversity, inclusion, and equity in the media," according to a news release by the organization.
Funabiki was also awarded the John S. Knight Professional Journalism Fellowship at Stanford University, the Jefferson Fellowship at the East-West Center of Honolulu, a National Endowment for the Humanities Professional Summer Fellowship at the University of California, Santa Barbara, and the Gerbode Foundation Professional Development Fellowship.
Funabiki has spent his first few weeks of retirement reconnecting with former colleagues, students, and friends in a series of Zoom gatherings he calls his "friendship tour." Next stop: A gathering with SF State colleagues on March 5.
"I'll miss him greatly," said Azocar, who is co-hosting the Zoom tribute. "I wouldn't be here without him."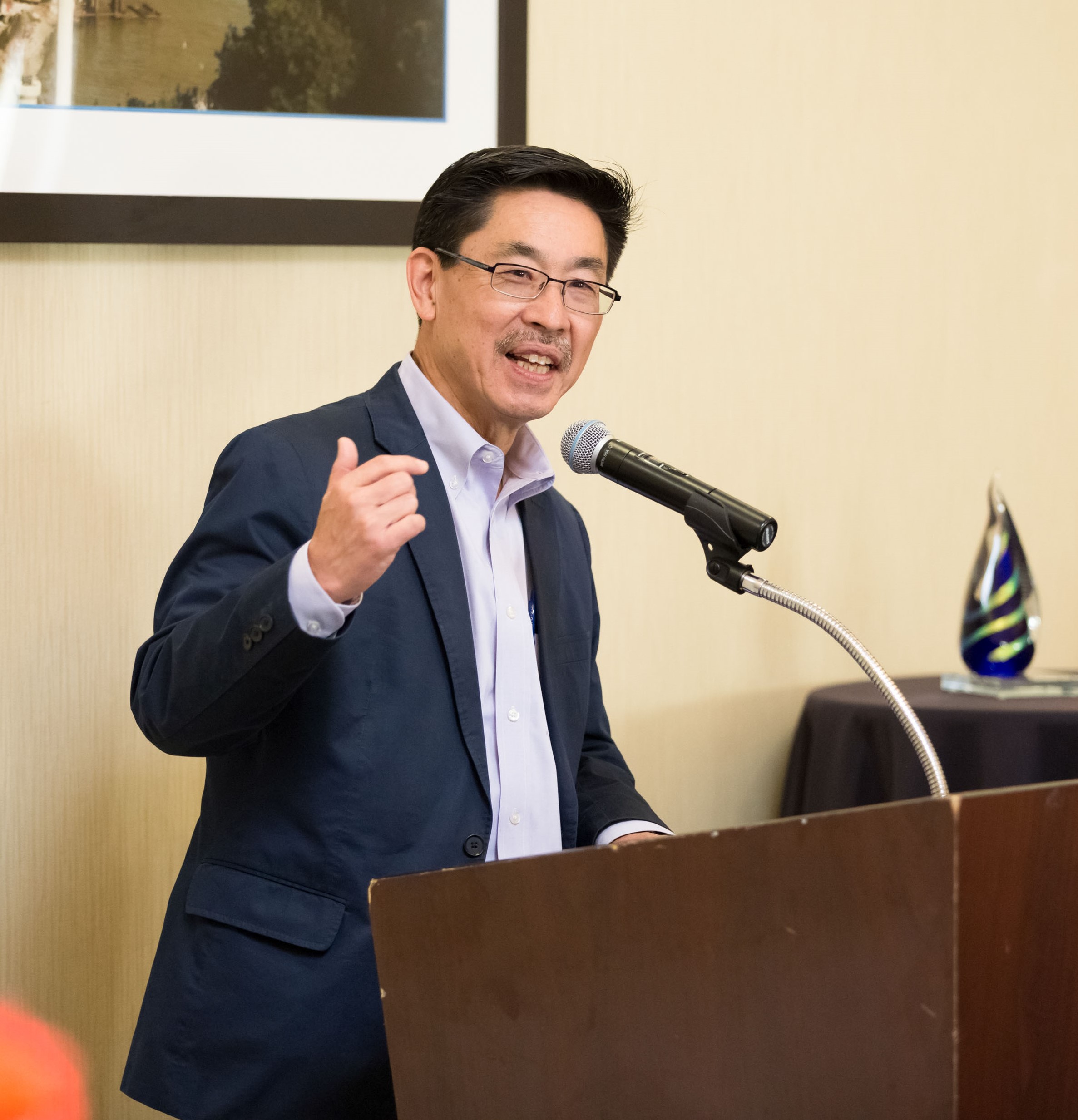 In a five-decade career that spanned journalism, philanthropy and teaching, Jon Funabiki championed social justice journalism and coverage of underserved communities. A graduate of San Francisco State University, he was also the founding director of its Center for Integration and Improvement of Journalism.
Photo courtesy of Jon Funabiki