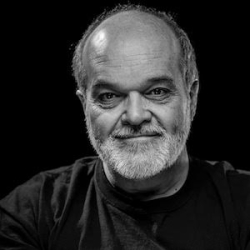 Kim Komenich
Associate Professor
Journalism Faculty Advisor
Email: komenich@sfsu.edu
Location: Humanities Building, Room 353
On Sabbatical Fall 2023
Kim Komenich heads the photojournalism sequence in the Department of Journalism at San Francisco State University. In 2016 he published "Revolution Revisited: A Look Back at the 1986 Philippine People Power Revolution," which is based the Pulitzer Prize-winning images he took for the San Francisco Examiner.
After graduating from San Jose State University in 1979, Komenich worked as a staff photographer for the Contra Costa Times. He went on to work as a photographer and editor for the San Francisco Examiner (1982-2000) and the San Francisco Chronicle (2000-2009). Komenich has photographed the ramifications of conflict in the Philippines, Vietnam, Guyana, El Salvador, the former Soviet Union and Iraq, where photos from his three trips to the Sunni Triangle in 2005 earned him the Military Reporters and Editors' Association's 2006 Photography Award.
Komenich has taught documentary photography and photojournalism in the Bay Area since 1986. He was a named a tenured associate professor at San Jose State University in 2015 before moving to San Francisco State. He is a 23-time faculty member of the Missouri Photo Workshop, the longest running workshop in the history of photography.
He is a recipient of the national Distinguished Service Award from the Society of Professional Journalists, the 1983 World Press Photo News Picture Story Award, and three National Headliner Awards. He is a 2005 recipient of the National Press Photographers Association's Clifton C. Edom Education Award, and 2010 recipient of the NPPA Humanitarian Award.
He was a 1993-94 John S. Knight Fellow at Stanford and a fall, 2001 teaching fellow at the Center for Documentary Studies at U.C. Berkeley. In 2006 he was named a Dart Ochberg Fellow, working with the Dart Center for Journalism and Trauma at Columbia University, curating photo exhibitions and giving presentations to journalists about the human toll of covering traumatic events.
Website(s):