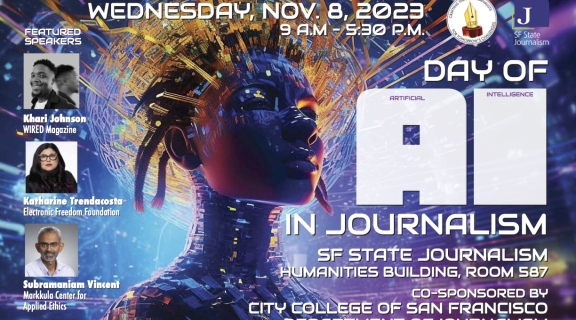 Day of AI in Journalism
Wednesday, November 08, 2023
Event Time
09:00 a.m. - 05:30 p.m. PT
Location
Humanities Building 587
Contact Email
amberw@sfsu.edu
Overview
Day of AI (Artificial Intelligence) in Journalism
Join experts, journalists, journalism educators and students us for a day of discussion and insights into the utilization of artificial intelligence in journalism. Learn how AI is being used in today's newsrooms and classrooms, and find out how journalists are essential in scrutinizing this powerful, emerging technology.
Location
San Francisco State University
Humanities Building, Room 587
Event Schedule
9:30 - 10:45 a.m., AI in the newsroom
Brittany Schell, Director of Newsroom Projects, AI and Lead Strategy for Coder Journalists, SF Chronicle
Lowell Robinson, Senior Producer of Voice & AI, KQED
Kevin Truong, Staff Writer, SF Standard
Michael Nunez, Editorial Director, Venture Beat
11 a.m. - 12:15 p.m., The Ethics of AI 
Katharine Tendracosta, Director of Policy and Advocacy, Electronic Frontier Foundation
Khari Johnson, Senior Writer, Wired
Subbu Vincent, Director, Journalism and Media Ethics, Santa Clara University
12:30 p.m. - 1:45 p.m., Lunch Break
Pizza lunch sponsored by SF State Journalism (HUM 310)
2 - 3:15 p.m., Investigating AI
Mat Honan, Editor in Chief, MIT Technology Review
Garance Burke, Global Investigative Journalist, Associated Press
3:30 - 4:15 p.m., Town Hall on AI Policy at SFSU Journalism
4:15 - 5:30 p.m., Deep Fakes and the Danger to the Truth
Jeff Daniel, Founder in Residence, AI Fund
This event is being co-sponsored by the Journalism Department at City College of San Francisco.
This event will count toward the Journalism Event requirement. Please sign in through the QR code posted in the room and notify your journalism professors that you attended.
Tags