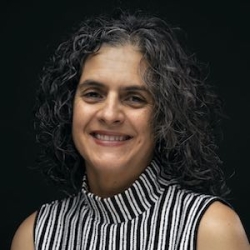 Cristina Azocar
Professor
Journalism Faculty Advisor
Phone: (415) 338-3134
Email: cazocar@sfsu.edu
Location: Humanities Building, Room 344
On leave Spring 2023
Dr. Cristina L. Azocar is a citizen of the Upper Mattaponi Indian Tribe and a Professor of Journalism at San Francisco State University. She is the author of News Media and the Indigenous Fight for Federal Recognition at Lexington Books.
Dr. Azocar is the Faculty Coordinator of the Presidential Scholars Program, the most prestigious scholarship offered at SF State, and is the faculty advisor to the Student Kouncil of Intertribal Nations (SKINS).
Her research focuses on the intersection of race and journalistic practice, particularly in the area of news coverage of Indigenous people. Azocar earned her doctorate in Communication Studies at the University of Michigan. She holds a master's degree in Ethnic Studies and a bachelor's degree in Journalism, both from San Francisco State University. Her interest in diversity in the news media spans more than 30 years. Dr. Azocar served as a past president of the Native American Journalists Association, directed the Center for Integration and Improvement of Journalism for 10 years, was a former editor of American Indian Issues for the Media Diversity Forum, and was an inaugural board member of the Women's Media Center. She was the first recipient of AEJMC's Dr. Paula M. Poindexter Research Grant.
Dr. Azocar is currently working on a new book, Decolonizing Media Research, to counter the research that safeguards Eurocentric research paradigms and works to silence and marginalize communication scholars of color.
Her work is published at American Indian Quarterly, Howard Journal of Communications, Health Communication, Journal of Broadcasting and Electronic Media, Journal of Communication, Journal of Communication Inquiry, Journalism and Mass Communication Educator, International Journal of Home Economics, Family & Consumer Sciences Research Journal, Communication Booknotes Quarterly, as well as in numerous edited books.
Dr. Azocar is a member her Tribe's Constitution Committee, is a committee member of the Accrediting Council on Education in Journalism and Mass Communication and a former council member. She served on the Virginia Department of Education Standards of Learning External Review Committee and was a member of the advisory board of the American Native Press Archives.
Dr. Azocar and Assistant Professor Lourdes Cárdenas were awarded the 2021 Distinguished Service to Journalism from the NorCal Society of Professional Journalists for creating the Bilingual Spanish Journalism degree, only one of two degrees of its kind in the U.S, and the only one at a public university.