Adriana Morga named Journalism Department honoree
Photojournalism major Adriana Morga, president of the National Association of Hispanic Journalists student chapter at SF State, was named department honoree by the Journalism Department faculty. She will speak at the department's virtual graduation celebration on May 21.
Morga served as the Raul Ramirez Diversity in Journalism intern at KQED and continues to work as a digital producer with the KQED en Español team. She also interned at KALW, El Tecolote, and The Dallas Morning News' Spanish newspaper, Al Día.
Morga's interest in bilingual journalism was sparked when she became a student member of NAHJ and started to follow coverage by other Latino reporters who were working in the San Francisco Bay Area.
She worked alongside Assistant Professor Ana Lourdes Cardenas to resuscitate the NAHJ student chapter, which had folded after the previous faculty adviser retired.
"I, very much, believed that there needs to be more representation of Latinx journalists, jobs and a space for them," said Morga. "I also wanted to have a space where I had other people who were going through the same thing that I was going through."
Morga won a 2020-21 Marcus Undergraduate Research Fellowship to complete a research project on the decline of Latino media in the San Francisco Bay Area, with Assistant Professor Laura Moorhead serving as her mentor.
Her research project focused on the importance of having accessible news for the Latino community and allowed her to delve into the need for Spanish-language and bilingual journalism in the Bay Area. She interviewed Latinx reporters to learn what they had to say about this decline and their ideas on how it could be addressed.
Morga has also won a number of scholarships, including the Bob Brown Scholarship, the Frank McCulloch Investigative Reporting Scholarship, and the Otto J. Bos Memorial Scholarship through the Journalism Department and NAHJ's Luis Gomez Scholarship. She said that she always made sure to apply for everything that interested her, whether or not she thought she was a strong candidate.
Morga has already landed a job as a trending reporter for Hearst Connecticut Media. In her new position, she will use her social media, multimedia and reporting skills to spot and report trends and engage with audiences.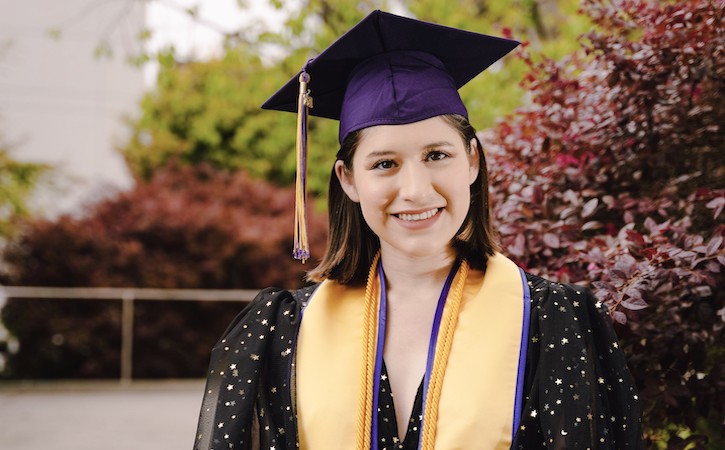 "Adriana is not just an exceptional student; she already has proven herself to be a skilled and resourceful bilingual journalist," said Rachele Kanigel, chair of the Journalism Department. "Though she's just graduating, her LinkedIn page already has a string of impressive achievements."