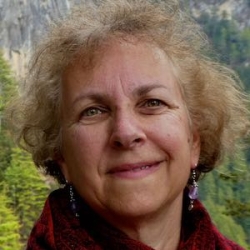 Rachele Kanigel
Professor
Journalism Faculty Advisor
Email: kanigel@sfsu.edu
Location: Humanities Building, Room 341
Office Hours:
Mon:
11:00 a.m. - 12:00 p.m.
and by appointment
Tue:
2:00 p.m. - 3:00 p.m.
and by appointment
Wed:
11:00 a.m. - 12:00 p.m.
and by appointment
Make an appointment via Calendly
Rachele Kanigel (she/her) is a professor of journalism at San Francisco State University, where she teaches reporting, writing and media entrepreneurship classes and serves as faculty adviser to the kick-ass student newspaper, Golden Gate Xpress. She served as chair of the Journalism Department from 2019 to 2022.
After earning her bachelor's degree in journalism at SF State, she worked as a reporter for 15 years for daily newspapers, including The Oakland Tribune and The News & Observer of Raleigh, North Carolina and was a freelance correspondent for TIME magazine. She has also written for U.S. News & World Report, Health, San Francisco, Prevention, People, Reader's Digest and other magazines and was a frequent contributor to MediaShift.
She is the editor of The Diversity Style Guide, a website designed to help media professionals write with accuracy and authority about a complex, multicultural world. She published a companion book, also called The Diversity Style Guide,  in 2019. She consults with media organizations about inclusive content and has created diversity style guides and led training sessions for WebMD, KUOW radio in Seattle, Children's National Hospital, Lockheed Martin, the Public Relations Society of America, the National Alliance on Mental Illness and other organizations.
She is also the author of The Student Newspaper Survival Guide, which is used as a reference guide in college newsrooms around the world. She was on the board of College Media Association for eight years and served as the organization's president 2013-2015.
In 2019, she was a Fulbright Specialist stationed in Bhutan, where she taught and trained faculty in the new mass communication program at Royal Thimphu College. She has directed study-abroad programs for the Institute for Education in International Media (ieiMedia) in Italy, France and Israel.
She holds a master's degree from Columbia University's Graduate School of Journalism.