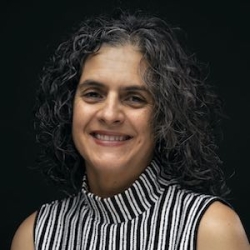 Cristina Azocar
Professor
Journalism Faculty Advisor
Phone: (415) 338-3134
Email: cazocar@sfsu.edu
Location: Humanities Building, Room 344
Dr. Cristina L. Azocar is a member of the Upper Mattaponi Tribe and a Professor of Journalism at San Francisco State University. Her research focuses on the intersection of race and journalistic practice, particularly in the area of news coverage of Indigenous people. Azocar earned her doctorate in Communication Studies at the University of Michigan. Her interest in diversity in the news media spans more than 30 years, and began with her concern about negative journalistic representations of Indigenous people. Dr. Azocar served as a past president of the Native American Journalists Association, directed the Center for Integration and Improvement of Journalism for 10 years, was a former editor of American Indian Issues for the Media Diversity Forum, and was an inaugural board member of the Women's Media Center. She was the first recipient of AEJMC's Dr. Paula M. Poindexter Research Grant or her upcoming book News Media and the Indigenous Fight for Federal Recognition at Lexington Books.
Her work is published at American Indian Quarterly, Howard Journal of Communications, Health Communication, Journal of Broadcasting and Electronic Media, Journal of Communication, Journalism and Mass Communication Educator, International Journal of Home Economics, Family & Consumer Sciences Research Journal, and Communication Booknotes Quarterly.
Dr. Azocar is a member of the Upper Mattaponi Indian Tribe's Constitution Committee, is a committee member of the Accrediting Council on Education in Journalism and Mass Communication and a former council member (2017-2020). She previously served on the Virginia Department of Education Standards of Learning External Review Committee and was a member of the advisory board of the American Native Press Archives.
Dr. Azocar is the co-creator, with Assistant Professor Lourdes Cárdenas, of the Bilingual Spanish Journalism degree. The BSJ will launch in fall 2022 and is only one of two degrees of its kind in the U.S, and the only one at a public university.